About Front Range Woodturners
We are the Denver area chapter of the AAW (American Association of Woodturners) serving woodturners throughout Colorado's Front Range.
Our Meetings
We meet on the first Tuesday of every month from 6:15 to 9:00 PM in the basement of Rockler Woodworking and Hardware. Visitors are welcome to join us at one of our meetings to see what we are all about.
Upcoming Demonstrations
October – Simon Begg (from Australia) – 

German Ring Turning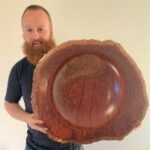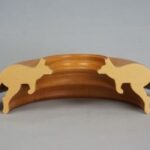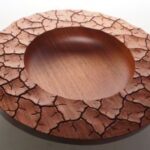 Simon Begg is a full time woodturner from Sydney, Australia. He started turning in high school and following that, he did his trade in cabinetmaking. In 2016, Simon attended Turnfest, Australia's turning symposium, which inspired him to quit his job at 21 and start his turning career. Simon got his works in a range of timber galleries in NSW, sold work through markets and took commissions which were often the more unique projects. Simon has now taught at Turnfest multiple times, teaches the majority of the turning at Timberbits, a wood school in Mona Vale, has done Zoom classes overseas and runs private classes in his workshop.
Simon's work is varied with his specialties in German ring turning (2nd picture), carved embellishment and bowl turning (3rd picture). His work has intentional design with a focus on form, proportion and texture. Techniques like the German ring turning have been a great challenge, done not just to keep a disappearing skill alive but to also challenge Simon's abilities on the lathe.
Simon will be teaching a hands-on class the day after our monthly meeting. The topic for class will be Simon's design & techniques for square edge bowls (because it would be hard to teach a German ring turning class in one day!)
Demonstrators scheduled for the year: 
Nov – Rebecca DeGroot
Dec – Holiday Party
April 2024 – Keith Gotschall
May 2024 – Matt Monaco
Member Benefits
Library – The Front Range Woodturners has an extensive collection of books, magazines, and videos available for members to check out at no cost.
Demonstrations – Each monthly meeting features an exciting demo given by one of our club members or a professional turner. When available we also offer a full day hands-on class with these renowned turners at a nominal cost.
Wood Raffle – Members can bring some of their excess wood to a meeting to be raffled off.  You can never have too much wood!
Group Buy – Do you want to save money?  We have vendor discounts with Internet suppliers, local suppliers, tool and steel suppliers and wood suppliers. Through our deals with these vendors our members can easily earn back the cost of membership!
Ladies of the Lathe – All female members of the FRW, aged 18 or older, are invited to join the Ladies of the Lathe. LOTL is intended to provide a comfortable, easy-paced, and non-threatening environment for women to learn and advance their skills in turning.
Mentoring – Members have access to several programs to help increase their woodturning skills. Group sessions are held monthly and one-on-one mentoring on various topics can be arranged with experienced FRW volunteers.
PHEOG – The Pete Holtus Educational Opportunity Grant program provides grant money to members through an application process. Applicants may request money for woodturning related classes, workshops, or symposium fees.
Special Notices
Wearing masks at meetings is optional.
The turning challenge for the October meeting is

Platters

.
Our next Group Buy month is October.
The last chance to order smocks is at the September 5th meeting. For more info contact Jay Miller.
Upcoming Events
Rocky Mountain Woodturning Symposium is 


THIS WEEKEND!!
After being cancelled the past 3 years due to COVID, it's back! The 21st RMWT Symposium in Loveland, CO runs from September
15-17, 2023.  Registration includes a symposium T-Shirt, Friday meet-and-greet picnic, and Sunday lunch.