About Front Range Woodturners
We are the Denver area chapter of the AAW (American Association of Woodturners) serving woodturners throughout Colorado's Front Range.
Our Meetings
We meet on the first Tuesday of every month from 6:15 PM to 9:00 PM in the basement of Rockler Woodworking and Hardware, 2553 S Colorado Blvd, Denver, 80222.
Visitors are welcome to join us at one of our meetings to see what we are all about.
Upcoming Demonstrations
November – Rebecca DeGroot –

Walking Mushroom

   
CANCELLED
NEW November – Bill Smith – Boxes
Unfortunately Rebecca had to cancel her trip to Colorado, so she will not be giving our demo or teaching a class.
Have no fear!  FRW Member Bill Smith has graciously stepped up on short notice to give our November demo.  Bill was a recipient of the PHEOG Educational Grant award this year and his demo is his payback to the club.  Bill used the grant money to attend the Oregon Woodturning Symposium in March and has been busy making boxes since getting back.
I have been working on boxes with friction-fit and threaded lids:  
What goes into making a lidded box with friction fit lid
Application of the Golden Ratio for box making
Considerations for making a good lid
Finishing the box – cut it off, turn it around, finish the bottom
How to make sure the bottom is an appropriate thickness
Thanks Bill, we look forward to your demo!
December – there is no monthly meeting in December, but we will have a Holiday Party instead!
Photos from Simon Begg's Square Edge Bowl class: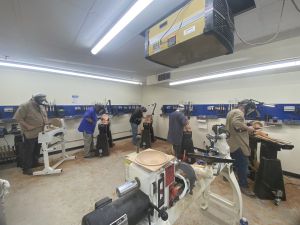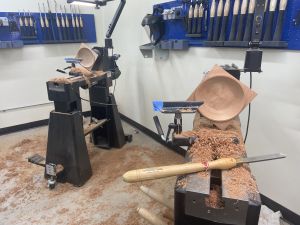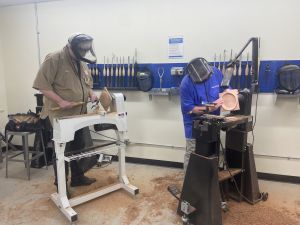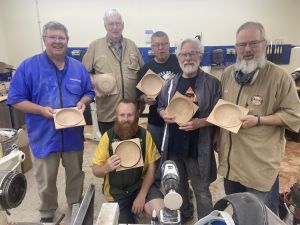 Photos from Ernie Conover's Hand Thread Chasing class: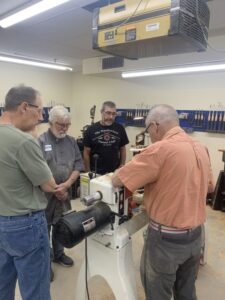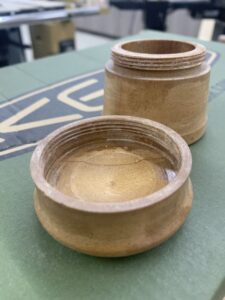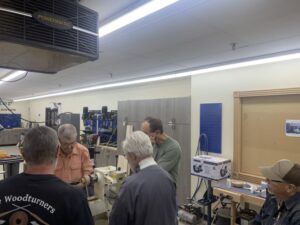 Demonstrators scheduled for 2024: 
Jan – Linda Ferber
Feb – Michael Roper
Mar – Chris Hoehle
Apr – Keith Gotschall
May – Matt Monaco
Jun – Raleigh Lockhart
Jul –
Aug – Elizabeth Weber
Sep – 
Oct – 
Nov – 
Member Benefits
Library – The Front Range Woodturners has an extensive collection of books, magazines, and videos available for members to check out at no cost.
Demonstrations – Each monthly meeting features an exciting demo given by one of our club members or a professional turner. When available we also offer a full day hands-on class with these renowned turners at a nominal cost.
Wood Raffle – Members can bring some of their excess wood to a meeting to be raffled off.  You can never have too much wood!
Group Buy – Do you want to save money?  We have vendor discounts with Internet suppliers, local suppliers, tool and steel suppliers and wood suppliers. Through our deals with these vendors our members can easily earn back the cost of membership!
Ladies of the Lathe – All female members of the FRW, aged 18 or older, are invited to join the Ladies of the Lathe. LOTL is intended to provide a comfortable, easy-paced, and non-threatening environment for women to learn and advance their skills in turning.
Mentoring – Members have access to several programs to help increase their woodturning skills. Group sessions are held monthly and one-on-one mentoring on various topics can be arranged with experienced FRW volunteers.
PHEOG – The Pete Holtus Educational Opportunity Grant program provides grant money to members through an application process. Applicants may request money for woodturning related classes, workshops, or symposium fees.
Special Notices
The turning challenge for the January meeting is a

 Lidded Box.

Our next Group Buy will be in January. Click on Resources > Group Buy to learn more.

Smocks

have been received, we're waiting on the patches to arrive. For more info contact Jay Miller.
You don't have to wait for 2024 before renewing your membership. Click on Become a Member (top right corner on the Home page), fill out the Current Member Renewal Form, and mail, email, or bring the form with a check to the next meeting.  Checks are preferred, but you can also pay via PayPal. 
Start thinking about what and where you want to apply for a PHEOG Grant (Pete Holtus Educational Opportunity Grant). This is money the club gives to members to take classes or attend a symposium or workshop. Applications are due by March 15th. For more info click on Education > PHEOG.
Upcoming Events
Our annual Holiday Party is

scheduled for December 8th. Have you started making an ornament for the Ornament Exchange? You still have plenty of time!

More party details to come.